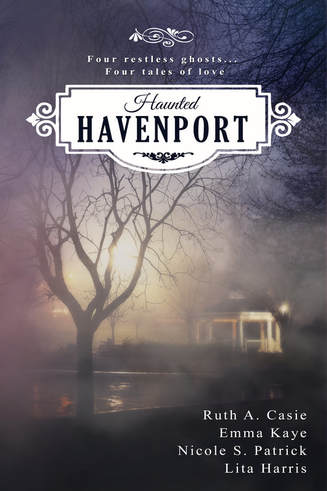 A multi-author romance novella boxed set.

Get the latest with Havenport Herald's very own gossip queen, Candy Apples.
Gossip with a snarky, tart bite…

Ghosts Take Over Havenport!

Not real ghosts, don't be silly people! Halloween is right around the corner and folks are gearing up for the annual Halloween ball at Havencroft Manor. I know I have my costume all picked out, how about you? Lets hope Mrs. X can come up with something new this year, she almost split the seams of her Naughty Nurse costume last year. Yikes!

***

The Witching Hour will soon be upon us—anyone think Havencroft Manor's most famous dearly departed will stop by for a visit? Such a haunting tale of love and betrayal makes this gossip columnist stand up and take notice. Keep reading, and we'll take a stroll down memory lane to find out all the juicy details.

***

The room above Serendipity is open for business. Looks like they kicked off rentals with a séance on behalf of our favorite philanthropist. Rumor has it, he has a ghost problem. Some say he's trying to get rid of the problem, while others are convinced he's trying to bring The Ghost of You back to life. With the Goddess's help, I guess anything's possible.

***

Sorry, ladies, but looks like our hunky veterinarian may be off the market soon. A certain divorcee was hired to spruce up his bachelor pad, but from the look of things, my money's on them turning it into a family home instead. Should be cozy with their latest rescue dog and the soldier's spirit that tagged along. So long as A Spirit's Bond doesn't stand in their way, should be fun to watch.

***

They say the new widow in town has a way with ghosts. In fact, one may have followed her into town. To help or hinder? Hard to tell. Maybe the ruggedly handsome carpenter fixing up Havencroft Manor will find a way to help out a Kindred Spirit.

***

Come to think of it, maybe I spoke too soon about those ghosts.

Don't forget to stock up on candy and have a Happy Halloween!

~Candy Apples

​
---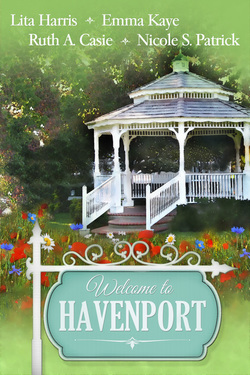 Lita Harris ~ New Beginnings
Two journeys, two hearts, one love.

Emma Kaye ~ Under Her Spell
She thought it was safe to return to Havenport. She was wrong. Can the man she left behind save her?


Ruth A. Casie ~ The Games's Afoot
It was merely a plot for their new story--until someone overheard, and bullets started to fly.

Nicole S. Patrick ~ Hometown Hero
Combat-hero-turned-politician meets animal lover--will their love blossom, or will their competing interests pull them apart?


---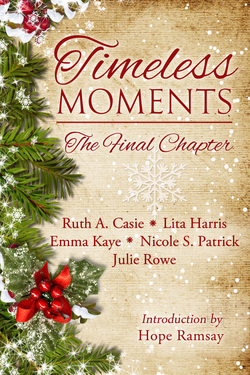 In the quaint seaside town of Havenport, Rhode Island, five couples find their happily ever afters with a little help from the romance section of The Final Chapter bookstore.


---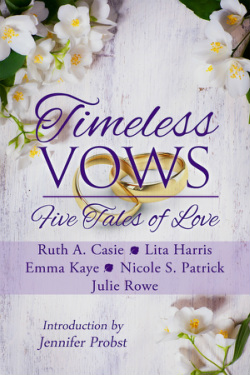 A weekend wedding has five couples thinking about the meaning of wedded bliss. Old vows are renewed and new ones made at The Loon Lake Inn nestled in the remote mountains of Maine.


---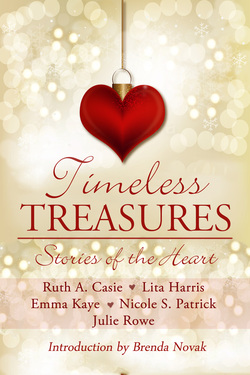 Midnight brings more than the promise of a new year for Taylor Hayes when her ex-boyfriend shows up at the same event at the Jersey Shore.

Fond memories are tossed aside as she relives the night Jonathan Barnes walked out on her. He wants her back—but can she forgive him and trust his kindness long enough to love again?




---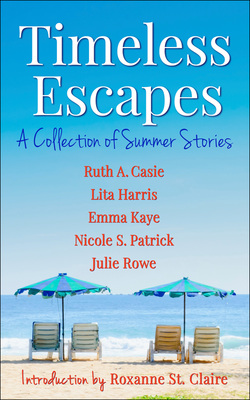 Marnie Shaw is a travel agent whose fear of flying has kept her safe within the confines of New York City. As the top agent for her firm, she wins an all-expenses paid trip for two to the U.S. Virgin Islands. She decides to confront her fear and take the trip alone when she is dumped by her live-in boyfriend.

Her plans of losing herself while relaxing in the beauty of the island is disrupted when Captain Jack, a handsome, scraggly bearded, boat captain, shows up at her bungalow unannounced and refuses to leave.

Will a night on the beach with Jack open her eyes to realize there's more to life than what she has, if only she would let go of her expectations and take a risk? Or when her ex shows up begging for forgiveness, will she settle for the safety of her quiet, risk-free life?




---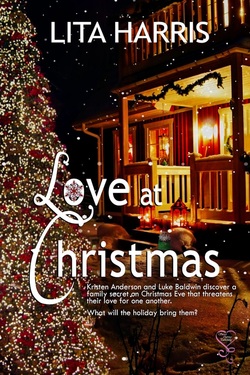 Kristen Anderson is resigned to live a child free life in New Jersey that is until she is given custody of her seven year old nephew after the death of his mother. Christmas brings them to their grandmother's house in Pennsylvania where the family focuses on healing and reopening the family inn in time for the holidays with the help of Luke Baldwin, a man with a past that leaves him uncertain of finding love until he meets Kristen again who is also wary of finding true love.

Kristen and Luke's desire to be together is complicated by Kristen's yearning to return to New Jersey, her grandmother's determination to keep Kristen in Brookside Falls, and a family secret shared by Kristen and Luke's families that is revealed on Christmas Eve. Will the deceit that threatens to break apart Luke and Kristen change their lives forever? What will Christmas bring them?

---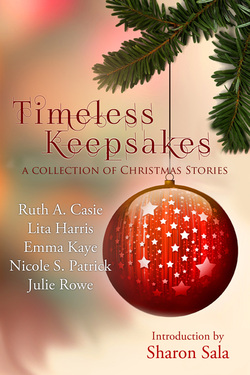 Christmas Spirits appears in Timeless Keepsakes: A Collection of Christmas Stories.

Another Christmas keeps Emily Chadwick busy in the kitchen until her granddaughter discovers an ornament that has been hidden away along with memories from her grandmother's past. Emily opens her heart and tells her granddaughter about the grandfather she never knew. This Christmas brings something a bit more special than cookies.


---